Fly Fishing

Telluride, CO
Orvis Endorsed Expert guide services.
Telluride Fly Fishers, est. 1989
Telluride Fly Fishers is an Orvis-endorsed guide service, locally owned and operated. We offer half-day and full-day walk/wade trips in the Telluride, Colorado area. Having been in operation for 30 years, our guides have full knowledge and understanding of the surrounding region.
Winter Fly Fishing 2020-2021

Fly fishing in the winter in Telluride is truly a unique experience! During the winter months, we guide only half day trips and only during the "heat" of the day. We are fortunate to have lots of sun during our winters, the sun warms up the water, fish, bugs, and us. That being said, once that sun starts to tuck behind the mountains are temperatures drop quickly. Start times and end times for each trip will vary depending on weather conditions, location of fishing, and sunlight. Let me be the first to tell you that fly fishing in the winter is more challenging than fly fishing in the summer. Our guides will provide a truly memorable experience in the breathtaking winter mountain scenery. We run a smaller staff in the winter months, availability is limited, please book early. If you have any questions about winter fly fishing don't hesitate to reach out 970-728-4440.
Telluride Fly Fishers Operations
Telluride Fly Fishers provides guided fly-fishing trips in the beautiful high country rivers, lakes, and streams of the San Juan Mountains in Southwestern Colorado. Trips are customized to the client, with access to the San Miguel River, Dolores River, their tributaries, alpine lakes, as well as hiking to mountain streams. Elevations are from 5,000 to 11,500 feet. We offer rivers, streams, creeks, ponds, and lakes to accommodate everyone from children to adults and from first-time anglers to veterans of this art.
Combining passion and experience, our professional guides can assist beginners in developing their skills as well as fine tuning the techniques of expert anglers. Our local rivers and streams call to anglers offering nature's beauty, diversity and home to brook, rainbow, cutthroat, brown, and cutbow trout.
Whether you love hiking to mountain streams, fishing private waters, or local rivers and lakes, our dynamic guides will customize a trip for you.
Telluride Fly Fishers is very family-friendly, and over the last 30 years we have sparked a love of everything outdoors in countless children. We remember being beginner anglers and love to see the quick progression anglers make with one of our guides by their side.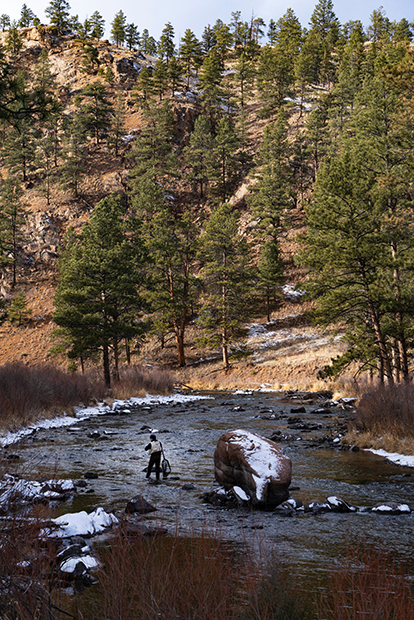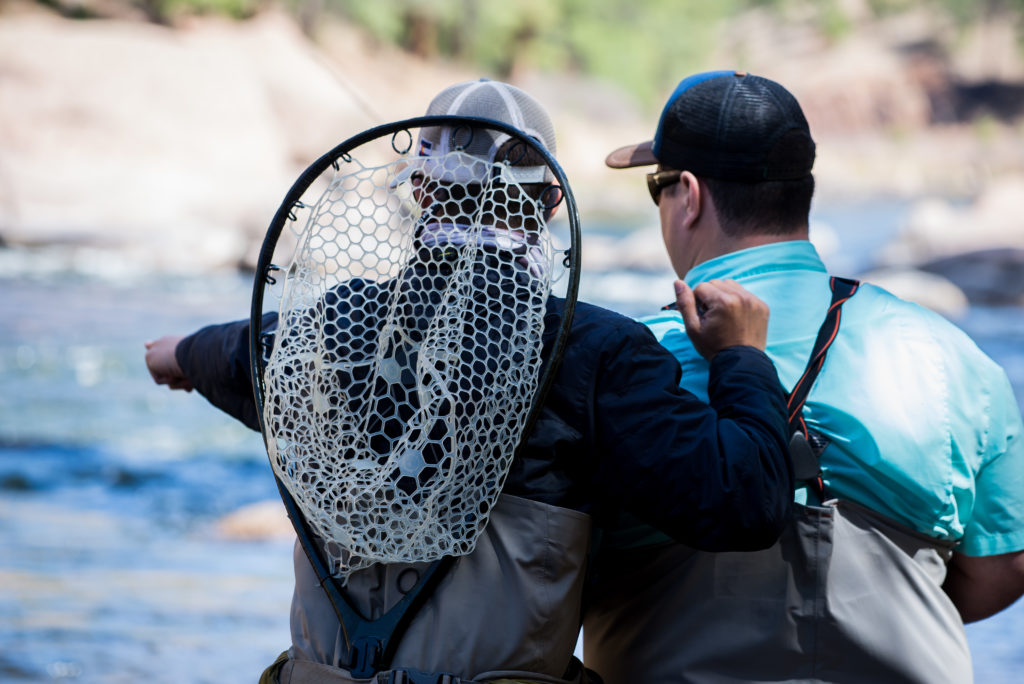 Trust your dream fly-fishing trips to Orvis; whether adding a fishing day with a local guide during your next business trip or planning a week at a remote lodge, our endorsed fly-fishing partners are researched, vetted, and selected by Orvis experts.
Check out Telluride Fly Fishers on the Orvis website.
At this time, guests are required to drive themselves, following their guide to the fishing location.

Guided Fly Fishing Prices
Fly Fishing Half Day
Morning 8:30am-12:30pm or Afternoon 1:30pm-5:30pm
4 or more requires 2nd guide and will be priced as a 2nd trip.

Includes flies and terminal tackle.

Morning 8:30am-12:30pm or Afternoon 1:30pm-5:30pm

Rental Gear – $50. ($25 Rods, $25 Waders/Boots)
Fly Fishing Full Day
Full Day Fish: 8:30am - 4pm
4 or more requires 2nd guide and will be priced as a 2nd trip.

Includes flies and terminal tackle.

Full Day Fish: 8:30am - 4:30pm

Rental Gear – $50. ($25 Rods, $25 Waders/Boots)​
What Our Clients Are Saying
Guided Fly Fishing Testimonials
"Midnite hiked us into a beautiful creek where I learned the practical and patient (for Midnite) practice of high sticking. I landed 12-15 wild brown, rainbow and brook trout within a few hours. It was an extremely rewarding day. Midnite did an extraordinary job of speaking and instructing to my level."
"Definitely worth it! I took my two younger kids out to get them some real life experience away from their video games and they had such a good time that the 9 year old wants to have his birthday party there next year.... The weather was perfect and the fishing was surreal. The gear they got to use was really nice (nicer than mine, i went shopping when i got home), and the instruction they got was really good. we mainly caught brooks and a couple browns. Looking forward to our next trip."
"It is always a good time fishing in the mountains – whether you catch a fish or not! Luckily with the guides there is a very good chance you will get a fish along with the unforgettable journey and views along the way. Never a bad day by the river!"
"Our guide's Midnite & Nick made our fly fishing experience one to never forget. Wished we would have signed up for a full day. Midnite's experience and knowledge of the sport is priceless. Cant wait to go back next week!"